"I don't think you're ready for this jelly." Destiny's Child, 2002

Lexie Park is an LA based food artist and designer behind the eye candy utopia that is Eat Nünchi. Her Instagram features a multi-sensory experience of pastel jelly cakes topped with delicate layers of stone fruit, Patrick Star-inspired Pandan rolls, juice pouches with suspended jelly flowers... it's the hottest vaporwave fantasy dream you've yet to have.




Look, everything Lexie makes is delicious as it is stunning and her background in fashion plays a big role on how she approaches Eat Nünchi. Not only did she grow up with a fashion designer momma, Lexie worked for companies like Opening Ceremony and launched Phlemuns Nonbasics.

About a year ago Lexie made the full transition from fashion to food; she's blended the two worlds so cohesively, you can't really tell the difference. Eat Nünchi was created with the full intention of collaborating with and creating for the fashion world and most recently has lent her jelly talents to Billie, Vans, and Nike.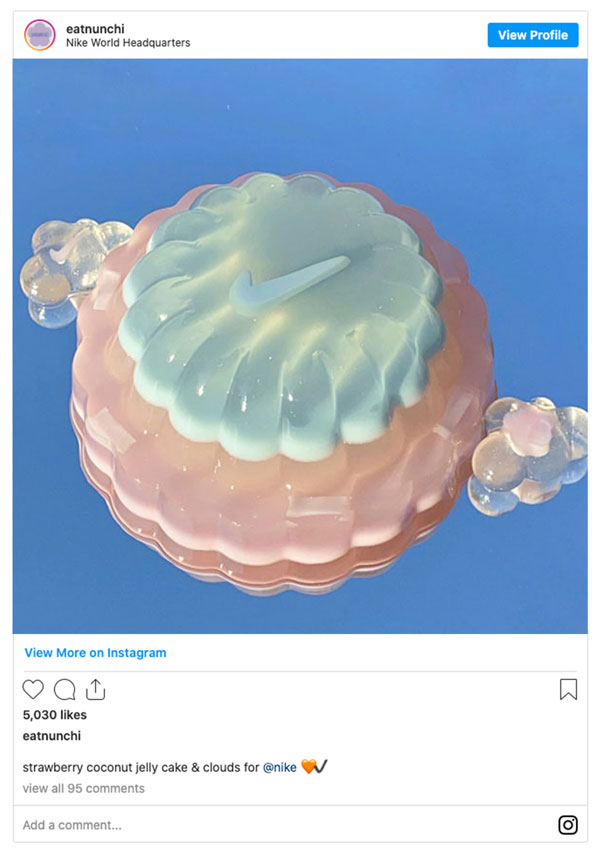 When we coyly asked her thoughts on watermelon, we nearly lost our socks when Lexie shared it is one of absolute favorite foods and has been wanting to work with the medium for quite a while now. Peep our interview with Lexie and be sure to stare deeply at her work of watermelon she created just for The Thirsty. *we're not worthy*

Eat Nünchi - how did it all begin? And why "Nünchi"?
I had been contemplating a career shift for some time in my late twenties but when I actually hit 30 it felt like it was something I just needed to do. I worked in fashion my entire life and wanted to somehow apply what I had learned into food. I've always loved cooking but just as a hobby. Nünchi is a korean word that doesn't directly translate to english but it basically can be described as the concept of emotional intelligence. It means to be hyper aware - and to be able to gauge others' moods. I had an idea that I wanted to create dinners around this topic. Before Covid. That's on hold for now.

How do you integrate fashion into your culinary creations?
It's sort of the same process for me. Starting with a fabric or ingredient and making something with my hands that's visually appealing to me. And then shooting content for it once I'm done always feels like I'm merching or styling a shoot for a look book to present it to everyone.




What does the adage "eat with your eyes" mean to you?
It's literally me whenever I'm at a market or restaurant for the first time. Or actually me before every meal too.

Share a bit about your creative process for Eat Nünchi?
It's usually inspired by something that I ate or saw at the farmers market or Asian market. And then I just start obsessing over what I'm going to make with it and it usually happens that same day. I like to post it on Instagram usually to test the market and see whether or not it's something I should continue to make and then sell.

Favorite ingredients to work with?
Jelly!

What's in that jelly?
For all of the jelly cakes I make, they're actually made with agar agar which is made from seaweed. So it's a lot firmer, a little more brittle, and vegan! I try to get most of my ingredients from the farmers market so everything is pretty seasonal.

Favorite creation you made for a brand, event, or customer?
I loved working with this Vans event featuring two artists- Tony Tafuro and Emersin. I got to make jelly pouches for their event but also suspend a baby Vans shoe inside a jelly jar and then ship it to them overnight to NY and hope it all survived.


Where did your love for watermelon come from? What makes them so awesome?
It brings me back to my childhood self- being in a pool all day during the summer and my friends mom bringing us icy cold perfectly cut watermelon cubes. They're the only sweet thing I really want to eat in the heat.

Breakdown your HOXIE x Eat Nünchi creation!
When you go to a Korean bar, they usually have this hollowed out watermelon filled with soju and then they ball out watermelons for you to eat on the side. I wanted to basically make a version of that with jelly. I also made jelly pouches with a watermelon spritzer which is basically fresh watermelon juice, strawberry mint from my garden (which is this crazy mint that smells and tastes exactly like strawberries), soda and a bit of lime. With HOXIE jelly letters and some watermelon seeds as visuals.


Anything you'd like to share about your next endeavours?
I'm launching my website really soon where I'll be selling Nünchi goodies and goods featuring other artists and also releasing some projects I've worked on with some brands and restaurants. I'm just trying to take it a day at a time and not plan or put out too much because we are still in the middle of a pandemic and I'm also still one person doing most of this. Let's see what happens after the election and after 2020 is over >.< ;;

seeded or seedless (watermelon)?
seedless

astrology or astronomy?
astrology

sweet or tangy?
tangy

glossy or matte?
matte

family meal or table for two?
family meal

sunrise or sunset?
sunset

bounce or jiggle?
Jiggle

@eatnunchi