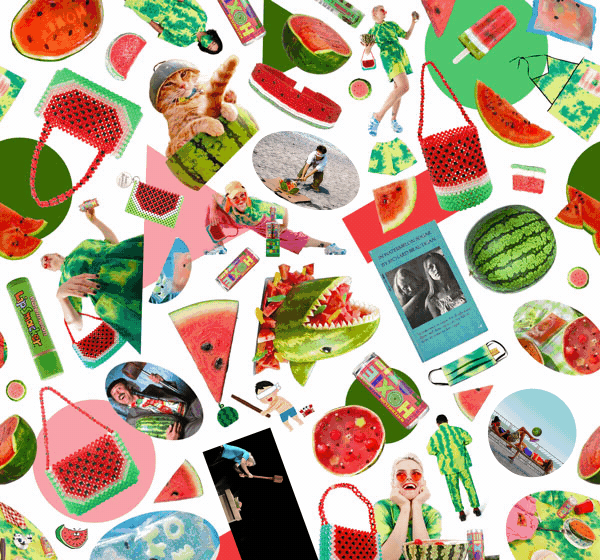 A platform for us at HOXIE to celebrate the creators, artists, and makers we thirst to know more about. Each issue will feature original work, art, and a behind the scenes look into what makes each featured guest tick.

For our first issue, we are celebrating the glorious gourd that is watermelon. Look, we love this creature so much we created a spritz that's all about it. Just so happens that some amazing folks also admire its glory. We're so incredibly humbled to be able to partner with Susan Alexandra, MEALS, and Eat Nünchi for our inaugural issue. It's all watermelon bb.

HOXIE was created as a labor of love, and this is our virtual hug for those for labor too. We hope you enjoy this as much as we enjoyed the process.

Thank you so much for being here.




eic Christina Lazzaro





If there's one person in the universe that deserves the title of Watermelon Queen, it's Susan Korn, designer and founder of NYC-based handbag and accessories line Susan Alexandra. Best known for her signature beaded bags and fashion shows, but make it theatre (or Bat Mitzvah), she has been redefining accessories since 2014. Each piece is conceptual and arguably anti-fashion, handmade with lots.of.love in NY.

New York is a huge inspiration in her work, you can feel the palpable magic of the city in each of her pieces. If the bodega is a gallery, then Susan is the forever featured artist.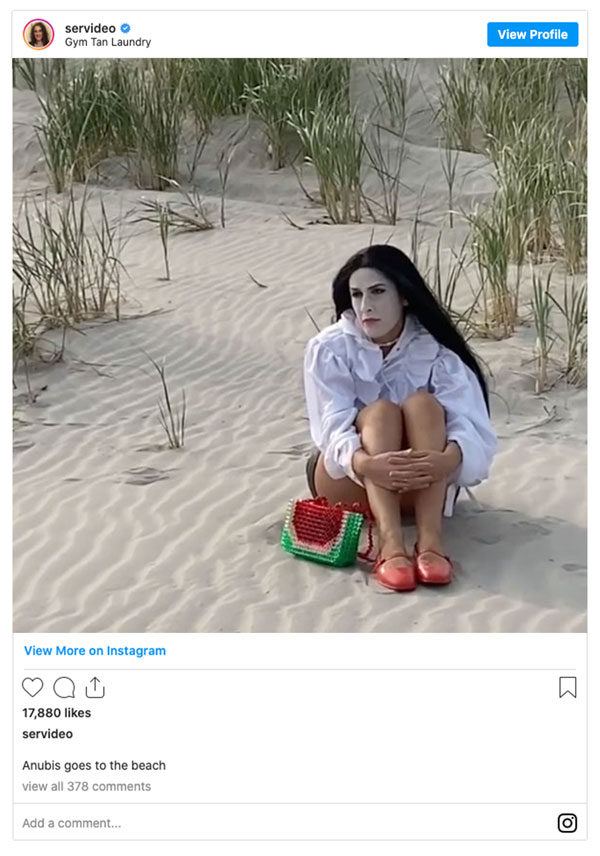 Seen on all the it girls including Lauren Servido's alter-ego Anubis on the Jersey Shore to Gigi Hadid and Alexa Chung, her bags exude the kinda kitschy-nostalgia-sparkle-pizzazz we all need.




Animal print, pastel geometric shapes, papillons, fruits, but specifically watermelon, the one that started it all. We sat down with Susan to discuss all things good and gourd, read all about it below.






Where did your love for watermelon come from? What makes them so awesome?


I blossom in the summer and so do watermelons. We're kindred spirits. I envy the beauty, heft and presence that a watermelon possesses. That patterned skin! that pillowy flesh! So sexy without even trying.



What came first the beads or the watermelon?


The watermelon came first but if you're a spiritual person you realize that everything is happening simultaneously, so...

Walk us through the watermelon collection.
Each piece is meant to encapsulate the joy, vibrance and delectability of a perfect watermelon.

If you could pick one person (dead or alive) to drip in your watermelon accessories who would it be and why?
Frida Kahlo because she is my patron saint-ess. She inspires me endlessly. She also famously painted a fantastic watermelon portrait that you should google.


How do you start your creative process? And how much does being a Scorpio play into it?


A book, a movie, an instagram post, an imaginary world-all these elements influence my work. I'm really all about creating these dream worlds that one can disappear into. Scorpio's are notorious dwelling in the darker crevices of life and my work is about luring you out of the darkness.



How did you come up with Susan Alexandra the Musical for fashion week? And how did you go about casting (

Megan

,

Lauren

,

Benny

- some of the best voices on the internet)?
I wanted to do something different, something that left a lasting impression and tickled peoples hearts. When I was casting, I reached out to the people who do that for me.




If you could give your 12-year self a piece of advice, what would it be?
The guy who broke your heart will eventually text you and apologize.

Mercury's retrograde, co-star just shouted something rude at you, and it's raining. What do you wear?
A watermelon bag and nothing else.

Anything you'd like to share about your next endeavours?
Not work related but I really want a garden.



seeded or seedless (watermelon)?


SEEDLESS



desert or beach?


Forest



miniature handbag or miniature food?


A mini handbag to hold my mini food



bop it or skip it?


Bop!



waterpik or water slide?


Waterpik! I have a phobia of bad breath!



brooklyn bridge or manhattan bridge?


Manhattan - closer to me so therefore it is the better bridge.



drip or drop?


Drops because they're more cozy and charming.

www.susanalexandra.com
@susan_alexandra





Visceral, contentious, delicious and purposeful, Los Angeles based clothing brand Meals creates non-gendered garments good enough to eat. Rebma and Sam Salad are the duo behind Meals and together have blurred the lines, "between the clothes we eat and the food we wear."

We like to imagine Meals as the love child between Massimo Bottura and Captain Planet, edible avant garde with a kick of sustainability stemmed from their use of deadstock and vintage fabrics. Yum.

Meals draws on traditional workwear motifs, embracing full cut silhouettes in sturdy cotton fabrics, and an ever-expanding line of professional chef-wear and home goods. Shrimp, yeah make it a jacket; watermelon, *taps enchanted wand*, you're a baseball shirt. It's a magical dining experience of fabrics uniquely dyed to culinary perfection.

Meals spooned out some of the ooze that makes us so thirsty for this brand. They were also kind enough to lend their artistry to create the wow moments with Susan and Eat Nünchi you see below.



Meals in three words?
Food meets fashíoñ.

Dissect "wear what you eat" for us.
Food is fleeting—you eat it and it's gone—but workwear lasts a very long time. Meals applies the fleeting, entertaining qualities of food to clothing.




Share how your love of food and the late Jonathan Gold plays into Meals?
J Gold took food (and all the personalities and culture around it) and put it in writing. Meals takes food and puts it in clothes. It's alchemy, water into watermelon wine.

What was the first food-inspired garment you created?
The watermelon suit.




And watermelon, was this a natural progression to the Meals line, or is there a deeper reverence for the holy gourd?


No deeper meaning—we invite people to think about their relationship to clothing and food, but we're painstakingly literal. Meals is a direct reaction to overworked narratives and 'wankery' in general. For us, it always 'is what it is'.



Dream food folks you'd like to collaborate with?


All the fast casual chains.




Do you think a HOXIE would make a delicious workwear silhouette?
A nice slim can, you bet.



When not in Meals, what are some other designers you dig?


69 is our spouse brand, and they're coming out with some absolutely sublime pieces lately—from denim shoes, to an entire collection based around koi fish.



Pop culture shit that really gets you going?
Fruits Magazine—the Japanese street style magazine from the 90's. That's not really contemporary pop culture, but it's a remarkable document.

Anything you can share in Meals' pipeline?
We're developing some kid's pieces, and also this super sick wash treatment that looks like cooked eggs.




seedless or seeded (watermelon)?
No stems, no seeds.

take out or home cooked?
Depends how flu$h we're feeling

fruit platter or meaty charcuterie?
Fruit platter all the way. We try to never show meat in our work, except for shrimp, which are bugs and don't count.

lisa or bart?
Lisa in the summer vacation episode where she looks "like blossom".

ring pop or push pop?
Ring pop—we're all about commitment.

a la carte or prix fixe?
Prix fixe. Less thinking. A la carte only at 'big plate' Mexican restaurants (el cholo, lucy's al adobe, Casita Del Campo). Always get the chili relleno a la carte. Generally the rice is overcooked anyway, so just use complimentary tortilla chips as your carb and save $4 on the entree. Facts.

sunny side up or over easy?
Sunny side up is more graphic. We're coming out with a sunny side up print soon. It's really swell.

diner or deli?
We used to swear by Langer's until we 86'd meat, so, diner.



hi-tops or lo-tops?


Whichever's chunkier.

broadcloth or poplin?
Neither. Canvas.

www.meals.clothing
@meals.clothing





"I don't think you're ready for this jelly." Destiny's Child, 2002

Lexie Park is an LA based food artist and designer behind the eye candy utopia that is Eat Nünchi. Her Instagram features a multi-sensory experience of pastel jelly cakes topped with delicate layers of stone fruit, Patrick Star-inspired Pandan rolls, juice pouches with suspended jelly flowers... it's the hottest vaporwave fantasy dream you've yet to have.




Look, everything Lexie makes is delicious as it is stunning and her background in fashion plays a big role on how she approaches Eat Nünchi. Not only did she grow up with a fashion designer momma, Lexie worked for companies like Opening Ceremony and launched Phlemuns Nonbasics.

About a year ago Lexie made the full transition from fashion to food; she's blended the two worlds so cohesively, you can't really tell the difference. Eat Nünchi was created with the full intention of collaborating with and creating for the fashion world and most recently has lent her jelly talents to Billie, Vans, and Nike.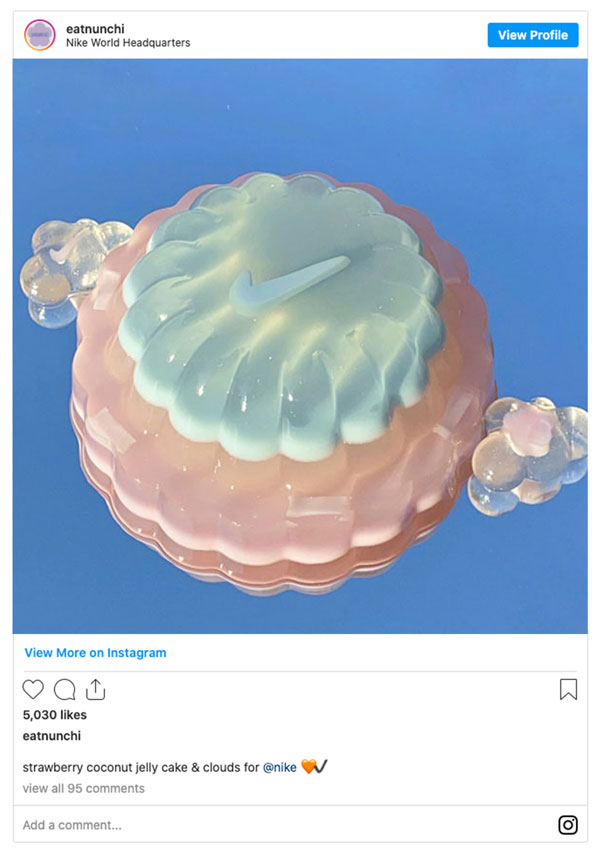 When we coyly asked her thoughts on watermelon, we nearly lost our socks when Lexie shared it is one of absolute favorite foods and has been wanting to work with the medium for quite a while now. Peep our interview with Lexie and be sure to stare deeply at her work of watermelon she created just for The Thirsty. *we're not worthy*

Eat Nünchi - how did it all begin? And why "Nünchi"?
I had been contemplating a career shift for some time in my late twenties but when I actually hit 30 it felt like it was something I just needed to do. I worked in fashion my entire life and wanted to somehow apply what I had learned into food. I've always loved cooking but just as a hobby. Nünchi is a korean word that doesn't directly translate to english but it basically can be described as the concept of emotional intelligence. It means to be hyper aware - and to be able to gauge others' moods. I had an idea that I wanted to create dinners around this topic. Before Covid. That's on hold for now.

How do you integrate fashion into your culinary creations?
It's sort of the same process for me. Starting with a fabric or ingredient and making something with my hands that's visually appealing to me. And then shooting content for it once I'm done always feels like I'm merching or styling a shoot for a look book to present it to everyone.




What does the adage "eat with your eyes" mean to you?
It's literally me whenever I'm at a market or restaurant for the first time. Or actually me before every meal too.

Share a bit about your creative process for Eat Nünchi?
It's usually inspired by something that I ate or saw at the farmers market or Asian market. And then I just start obsessing over what I'm going to make with it and it usually happens that same day. I like to post it on Instagram usually to test the market and see whether or not it's something I should continue to make and then sell.

Favorite ingredients to work with?
Jelly!

What's in that jelly?
For all of the jelly cakes I make, they're actually made with agar agar which is made from seaweed. So it's a lot firmer, a little more brittle, and vegan! I try to get most of my ingredients from the farmers market so everything is pretty seasonal.

Favorite creation you made for a brand, event, or customer?
I loved working with this Vans event featuring two artists- Tony Tafuro and Emersin. I got to make jelly pouches for their event but also suspend a baby Vans shoe inside a jelly jar and then ship it to them overnight to NY and hope it all survived.


Where did your love for watermelon come from? What makes them so awesome?
It brings me back to my childhood self- being in a pool all day during the summer and my friends mom bringing us icy cold perfectly cut watermelon cubes. They're the only sweet thing I really want to eat in the heat.

Breakdown your HOXIE x Eat Nünchi creation!
When you go to a Korean bar, they usually have this hollowed out watermelon filled with soju and then they ball out watermelons for you to eat on the side. I wanted to basically make a version of that with jelly. I also made jelly pouches with a watermelon spritzer which is basically fresh watermelon juice, strawberry mint from my garden (which is this crazy mint that smells and tastes exactly like strawberries), soda and a bit of lime. With HOXIE jelly letters and some watermelon seeds as visuals.


Anything you'd like to share about your next endeavours?
I'm launching my website really soon where I'll be selling Nünchi goodies and goods featuring other artists and also releasing some projects I've worked on with some brands and restaurants. I'm just trying to take it a day at a time and not plan or put out too much because we are still in the middle of a pandemic and I'm also still one person doing most of this. Let's see what happens after the election and after 2020 is over >.< ;;

seeded or seedless (watermelon)?
seedless

astrology or astronomy?
astrology

sweet or tangy?
tangy

glossy or matte?
matte

family meal or table for two?
family meal

sunrise or sunset?
sunset

bounce or jiggle?
Jiggle


@eatnunchi





Allison Calhoun is a stylist, costume designer, and fashion editor HQ'd in Los Angeles. She's the proud owner of smiley pup Banjo, and in her spare time live tweets along to her favorite films.


In each issue of The Thirsty we'll feature a curated selection of products handpicked by Allison herself - hi, Al's Edits! This edit was inspired by the style and grace of watermelon featuring a smattering of inventiveness to keep your life feeling H20melon for days and daze.









ONE
Squirm the seeds that bite
The rind outside the DM
Of watermelon



TWO


Seeded or Seedless
"Honey I like your flavor"
Watermelon babe

THREE
Even with distance
I seek the seeds you sow in
Side watermelon

FOUR
Juice the fruit you squeeze
Sip me and I will drink you
From a can or cup

FIVE
Hey, thanks a melon
Seed money to rind the rails
Melondramatic